Why people hire Bryce
Stories are the foundations that become million-dollar products and billion-dollar businesses.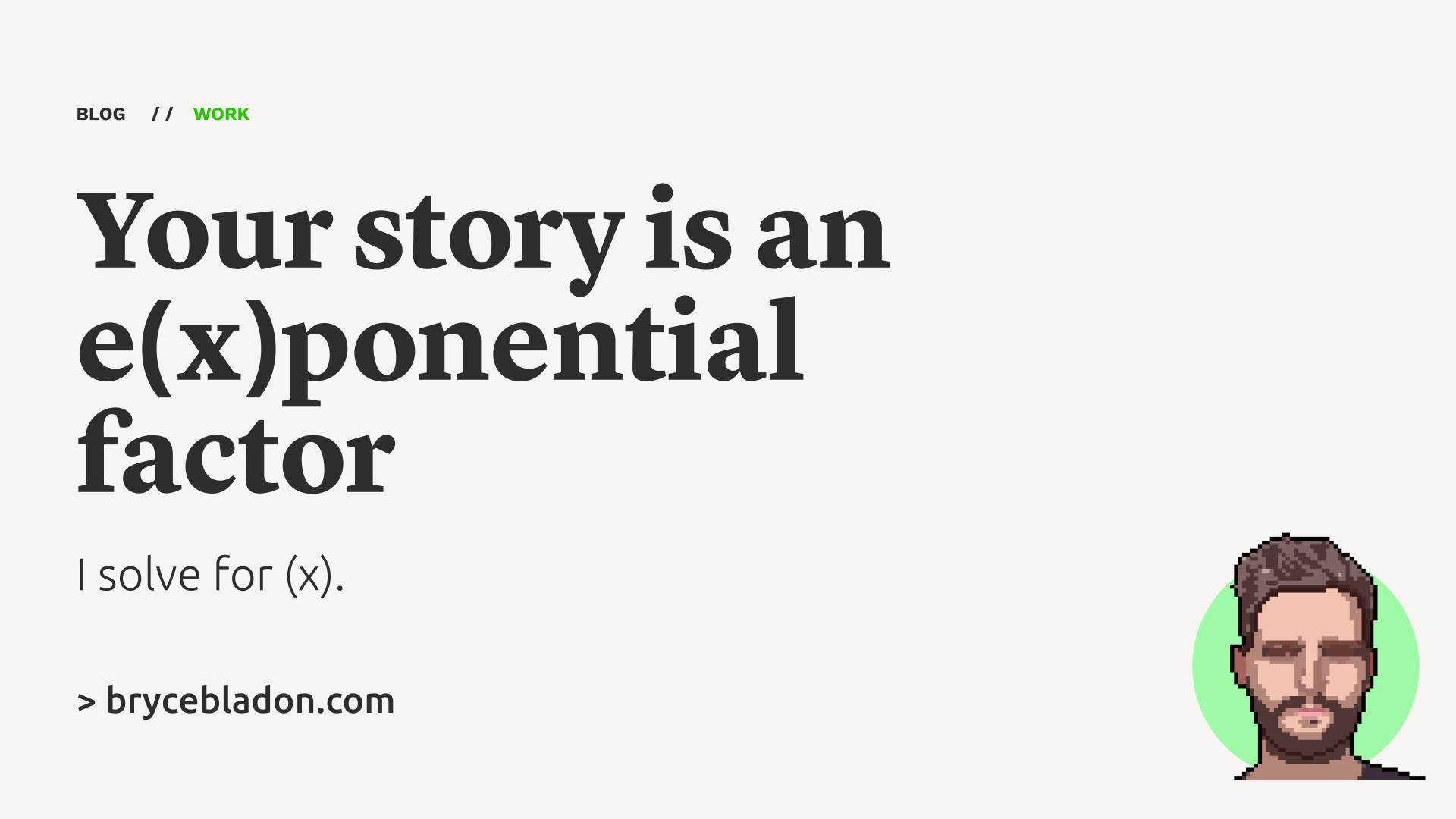 I sell stories that make people understand or care about something.
That something is usually new to this audience, but once they hear its story, they want to experience or learn more about it. This story creates a connection between the audience and a richer life.
Stories that create these connections are incredibly valuable. They're a form of wealth that can't be automated or generated. They foster the understanding that leads to loyal customers and supportive communities.
Stories grow as they're retold, and a good storyteller refines them in the retelling. Over time, their reach, meaning, and value can grow.
---
Stories are billion-dollar brands
My stories are the foundation projects use to become million-dollar products and billion-dollar businesses. They are used to:
Help people understand or experience something new
Make intangible things real (literally and metaphorically)
My stories make people want to learn more and keep reading. The good ones make people care.
Storytelling is sales and marketing
I use storytelling to develop understanding and personality, creating a connection between an audience and their experience. The more my stories are told, the more powerful this connection becomes. This connection is used to:
Sell your idea
Grow your audience
Build trust
Over time, my stories create a compounding competitive advantage for my clients.
Your story is your e(x)potential factor.
Your story is how customers choose you and why fans love you. It's how critics introduce you and why competitors remember you.

Your story is an unlimited resource that grows more valuable the more it's used.
---
What's your story?
I help clients define (or redefine) their story. Then I provide the simple systems for telling and retelling your story at scale.
I define your story (in a way that resonates with your audience)
I give you systems for telling that story (in a way that reaches millions)
I provide these stories and systems so that they can be used and understood without me. They're powered by your existing resources and guided by your goals.
Past stories
My work is most visible in the brands, products, and businesses I've helped create.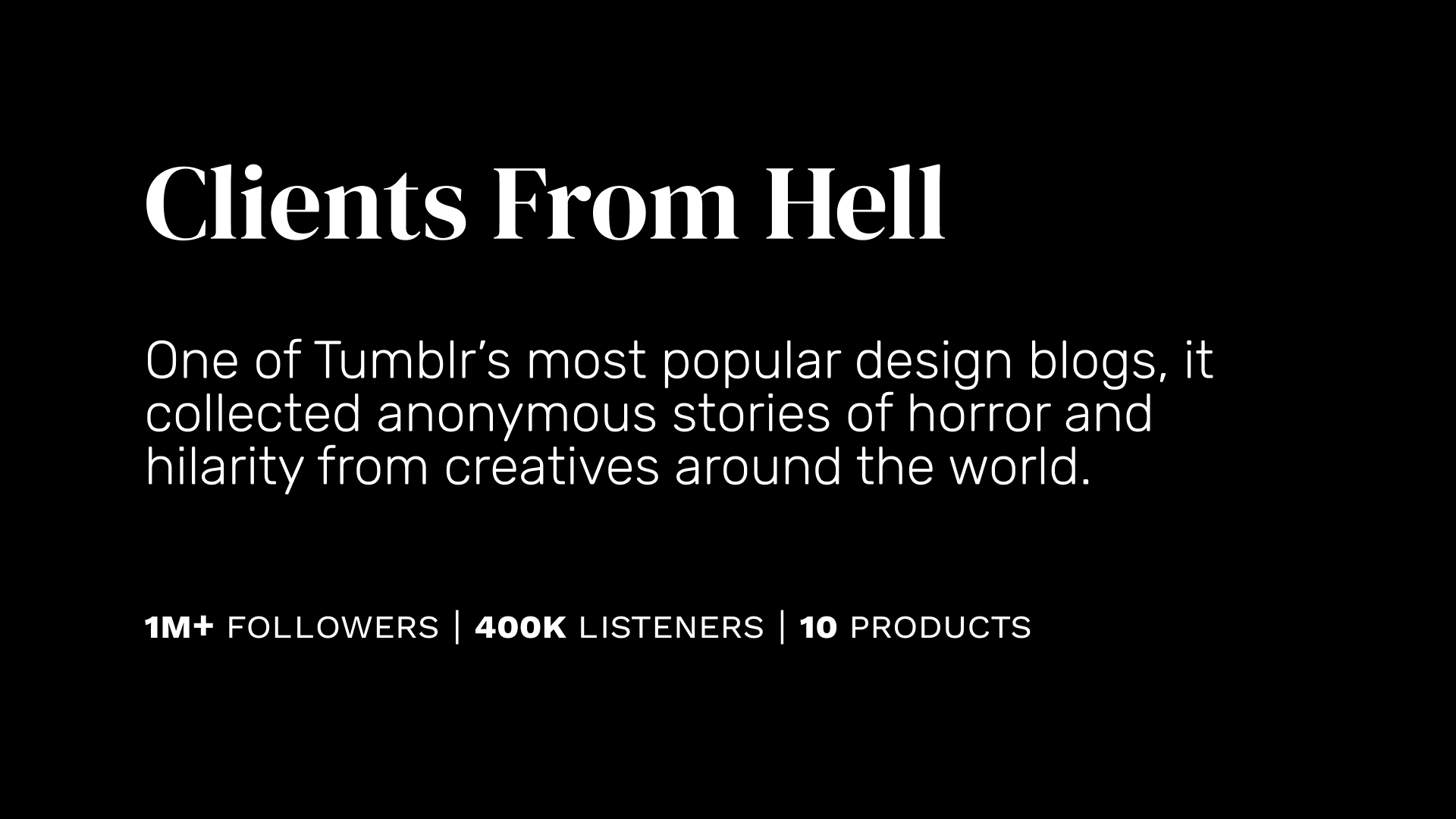 Why I sell stories for a living
Stories are how I make sense of the world.
I became a writer because writing empowers me to investigate, understand, and share whatever matters to me. I've been living and working online for nearly 20 years, across a variety of technologies (VR, crypto, etc.), media (streaming, AR, 360-video, etc.) and industries (design, film, startups, etc.).
I designed my work to facilitate a life I enjoy. And I designed my life to empower work I care about. As long as I work with good people who care about doing their best work—I'm happy.
Want to work with me?
I'm pretty picky about who I work with, but I'm always eager to help if I can.
Here's who I like to work with:
Artists and creators trying to monetize their craft to help support it. (0-10% my usual fee.)
Brands and products trying something novel. (100% fee via retainer or 2-4 week milestone-based project)
Business and governance tied to emerging technology and it's practical application. (fee per client; open to advisory positions)
Regardless, I'm always eager to hear what you're working on. Tweet or email me to tell me all about it.